If you are not familiar of the Philippines and what postcards you might want to collect from our country, this post will give you some ideas on what type of postcards you should start asking from your Filipino Postcrosser Friends.
1. UNESCO Heritage Sites – Just like other countries, Philippines boasts a lot of beautiful natural and manmade tourist worthy spots and one of them is the Puerto Princesa Underground River.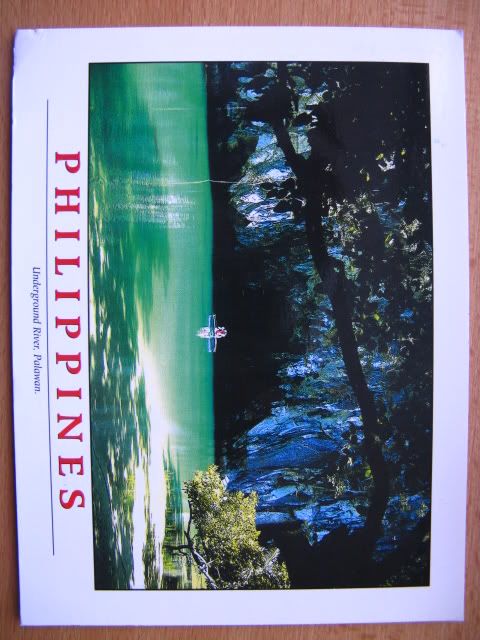 2. Waterfalls – There are many waterfalls in the Philippines. In Iligan City alone, there are 23 waterfalls!! But not all of them have their own postcards.
3. Folkdances – Since Philippines is composed of 7,107 islands, then it also means we are a country of different cultures thus almost every ethnic groups has their own folkdances.
4. Beaches – And because the Philippines has a lot of islands, we can't deny that we are hugely blessed with a lot of beautiful beaches like Boracay, Dakak and many more!!
5. Tourist Spots – Aside from the UNESCO Heritage Sites, we have many tourist spots and most of them have postcards of their own. Not massively produces in some places but can only be acquired by local stores.
6. Churches – The Philippines was colonized by the Spaniards for almost three centuries, so having many Catholic Churches is not a big surprise.
7. Cultural Heritage – We are fond of saying "Only in the Philippines." Why? Because there are a lot of customary things and attitude that can only be found in our country just like the "pagmamano."
8. Map Cards – We have different map cards. Though not many but we can brag a few!
This is only a quick list. On my next posts, I will give you more ideas on each! Hope you enjoy my post. Please share!