Based on my observations, Filipinos are not avid postcrossers. Maybe 1 out 30 or more people are involved in postcrossing (the hobby of sending, receiving and collecting postcards). In the advent of text messaging and email, sending postcards or even snail mails have dropped significantly. So finding one who is into postcrossing in our place would be really rare.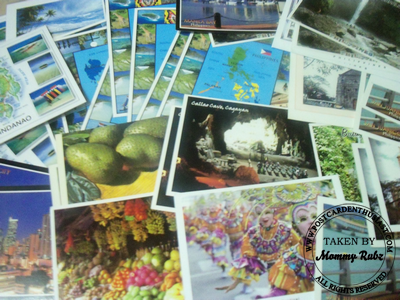 And because of this, finding newly designed postcards is uncommon just like the people who buy them. If you visit locally established bookstores, their on-hand stocks are probably printed years ago during the 80s or 90s since the paper quality already shows yellowish signs. If you would noticed, some of the images that are used were probably taken in the 1970s were sending via snail mail are truly appreciated (or no choice, no emails back then LOL!!).
The only postcards that are constantly produced are those from Sterling Paper Products Ent., Inc., National Bookstore and Philippines Postcards. If you have been constantly exchanging postcards from the Philippines, I am sure you have gotten one or more similar postcards from these companies. But still, we keep on sending these postcards because these are the only postcards we have that are descent enough to send because of their high quality prints. Aside from that, Philippines Postcards is the only company who produces map cards of our country and its islands.
Now, if you are not choosy or picky in quality and in print, you can actually get rare postcards from the Philippines. Just like the kind of postcards I mentioned earlier. These rare postcards were printed back then when technology was not yet at its finest both in printing and in photography. These postcards were dug at old local bookstores that were hidden because the sales clerk probably thinks they are instinct or nobody wants them.
So, how do we appreciate Philippine Postcards?
Simple, if you get postcards that are already yellowish or has low quality print, don't think bad of the sender for sending you a cheap postcard or an ugly one. Think of it this way, your sender probably have scoured all bookstores in their city, searched high and low just to find another postcard to send. And if not, just think that these postcards where printed back in the 90s or much older. Or, just think of this, the postcard in your hand right now is unique. It is not the same as any of the other postcards in the Philippines and even the rest of the world.
And if you get the same postcards from the Philippines (those that are constantly produced), think of this: the sender made a great deal to send you the only descent postcard he or she can find. The person doesn't want you to feel bad about the postcard he or she sent.
To make my short post shorter, every postcard sent from the Philippines whether old or newly produced is unique. Your sender gave time and effort in looking for postcard. They spent hours or even days visiting different bookstores just to get these postcards and be able to send you something different than the usual. This just means that your Filipino sender valued you so much!
Therefore, to appreciate a Philippine Postcard is to appreciate your sender, the history of how the postcard was found and sent to you. Why do I know these things? I know because everytime I send my postcard, I pour out more than my time and effort to it, I put even my HEART!!